I will readily admit that I am cushion obsessed. They are such an easy and inexpensive way to update your interiors. One of my favourite companies would have to be by the iconic Australian company, Bonnie and Neil. Their work is just simply AMAZING. With their doors only opening in 2010, they are a relatively new company, but it has not taken them long to put their stamp on the textile industry with them now being one of "Australia's most popular independent textile design studios."

There is a huge screen print trend in interiors at the moment and I believe that it was the eclectic designs of Bonnie and Neil that started this movement. According to their website their "approach to design is rather intuitive, involving a combination of traditional printing methods pared with unique applications. Largely incorporating botanical motifs, bright patterns, and the occasional nod to Australiana culture, their designs are influenced by Bonnie's background as a florist, a shared love of colour and their surroundings. These eclectic designs are then hand screen printed onto Bonnie and Neil products, using inks mixed at the studio." The result? Pure perfection, that complements a vast array of interior styles.

Bonnie and Neil has a lot of products ranging in price from tiles, to bedding, to tableware. So whether your budget is big or small, you can still have a piece of the amazingness that is Bonnie & Neil in your home.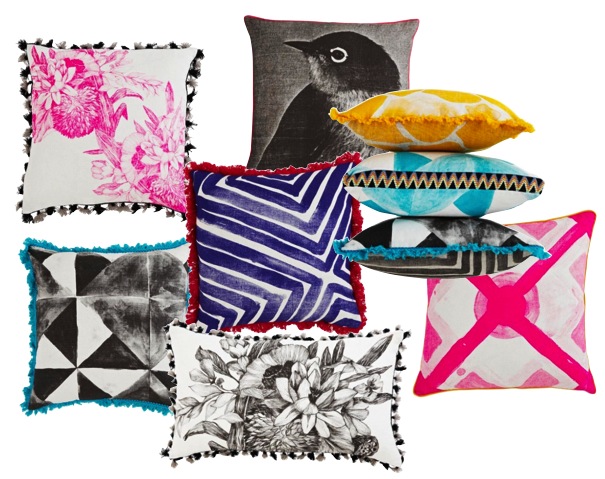 Click
here
to check out their range.
---
Bonnie & Neil cushions featured in the interior of a beautiful loft. Image source
here.
---