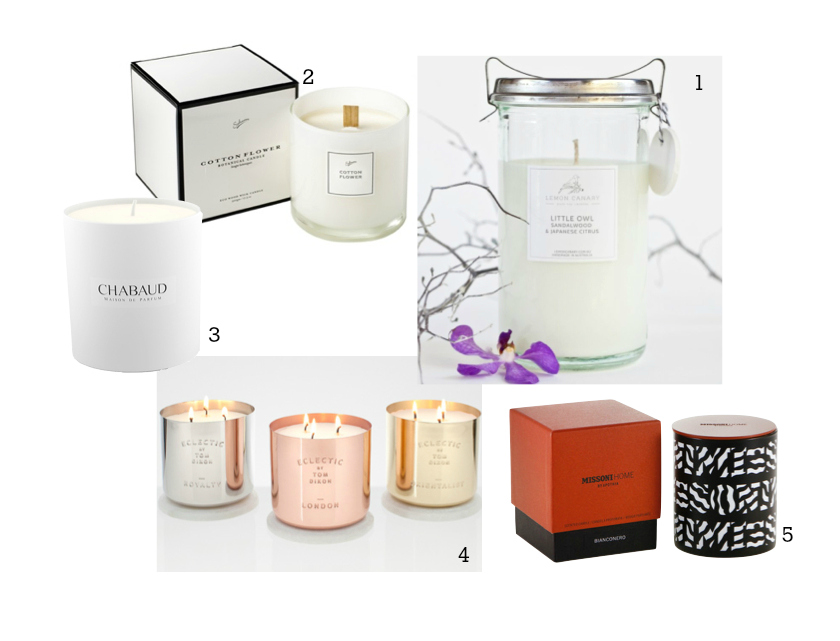 There are a lot of candles around at the moment, and I am glad there are. Not only do they exude an amazing scent, they add a feeling of welcoming ambiance, warmth, and are also a great decorative item. And if you don't have a fireplace, they are the strongest expression of the feng shui element "fire" in your home.
Candles look amazing styled on a coffee table, a side table, in a bookcase, in a bathroom and even in your bedroom (I think that's every room?!).
With so many types of candles available, with different textures, scents and shapes, the one you choose and how you place it can make a big impact on your space.
In saying that, I thought I would help with your decision making process and compile a list of my top 5. These have been chosen not only for their scents, but for their incredible decorative touch.
1. Lemon Canary
These special Vintage Jars are one of a kind and my all time favourite. Jasmin, the founder/creator personally collects them and fills them with the purest creamy soy wax, essential oils and cotton wicks. Each candle has a beautiful history and is made with love. Lemon Canary's posts on Instagram are absolutely beautiful and full of wisdom and inspiration, I can see this love from Jasmin expressed in each and every candle. Not only are they amazing to smell and look at, they are also very reasonably priced, the Vintage Candle range starts from $39.95. You can shop for them
here
.
2. Sohum Wood Wick
A very good friend of mine bought me one of these candles in the Cotton Flower scent and I have loved this brand ever since. The organic cedar wick makes a soothing crackling sound reminiscent of an open fire. They are made with a creamy botanical wax blend, which makes them a "true eco delight for the candle connoisseur". The simple and classic design of a hand made, semi opaque white vasette, makes them the perfect accessory for many spaces. These are priced at $32 each and can be bought
here
.
3. CHABAUD Maison de Parfum Candles
These luxury candles are all about the scent. CHABAUD Maison de Parfum is a family owned French niche perfume brand that creates candles that radiate universal pure elegance. Chabaud believe that a "great perfume always has a beautiful story to tell. If a scent makes your heart beat, it shows a desire, a dream, a longing". These are priced at $75 each and can bought
here
.
4. Tom Dixon Candles
Who can go past these stunning candles that are encased in copper, brass and nickel with a solid morwad marble lid, for that perfect accessory in your home. The scents of these candles have been created to "capture the essence of the travelling, trading and nostalgic past with the vibrant future of British life." The collection of all three candles would look amazing as a feature by itself. You can buy these candles individually for $113, or a group of three for $154
here
.
5. Missoni Candles
The last, but certainly not the least is the Missoni candle range. This collection is comprised of five candles with one signature scent and each of the other incorporating the elements, fire, water, wine and earth. Lets not kid ourselves though, what gives these candles their edge is their distinctive glass holder decorated in the signature Missoni print and lettering. Quality is insured though with these luxury soy candles being made from all natural ingredients. Priced at $130 each and be bought
here
.