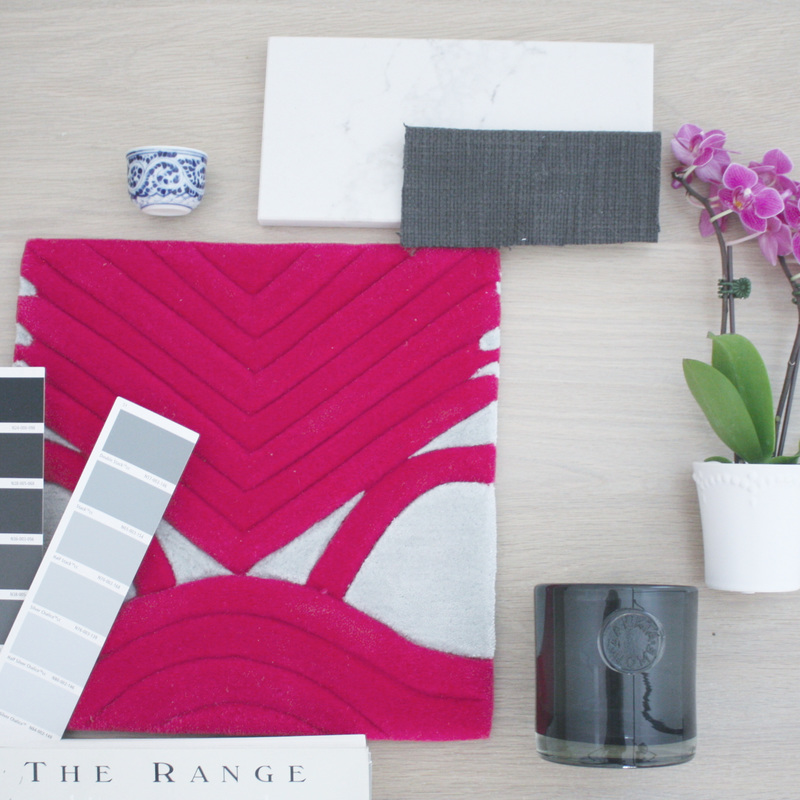 If you are not already familiar with the Designer Rugs brand, I recommend you enlighten yourself. Designer Rugs is Australia's most innovative and design focused rug company. They have been in the business for 30 years and as well as having their own in house collections, they also regularly collaborate with well know Australian artists and designers, such as Alex Perry, Camilla and Greg Natale.
Designer Rugs most recent collaboration is with stylist and designer Petrina Turner. The range is called NEW AGAIN and features bold colour palettes and textures, while referencing historical nostalgia in a stunning contemporary fashion.
I have been lucky to get my hot little hands on a sample of one of my favourite rugs from the New Again range, the "Evelyn". The bold fuscia colour works in perfectly with charcoals, rich blues, whites and warm timber tones. I am currently working on an inspiration board for a master bedroom scheme (you can see the flat lay above), where I have teamed the beautiful Evelyn rug with charcoal accents from
Zakkia
homewares, classic marble, a touch of blue, and some luxe linen fabric for a gorgeous bedhead and upholstered base from
Heatherley Design
.
I have included some images from the
Designer Rugs
website of some more beautiful pieces from Petrina Turner's New Again range.